United Kingdom - Cross Mission
While lockdowns and fear of disease during the COVID-19 pandemic have made missionary work more difficult in many parts of the world, there are still missionaries who refuse to quit. They just find a way.
In the United Kingdom, Sean Lee with Cross Mission writes: "We are a mission organisation located in Wales. Wales used to be a country of revival and there are many who remember the most recent revival movement in Wales. Yet now very sadly, it is difficult to find faithful Christians at the moment. Churches are filled with elderly members mostly who experienced and tasted the revival but their faith failed to reach the next generation, which reminded me of Judges 2:10: "there arose another generation after them, which knew not the LORD, nor yet the works which he had done for Israel."
"So every missionary in Cross Mission is trying to bring the gospel back to Wales and the UK (and all nations!) But due to the COVID-19 situation, it became hard to reach people so we decided to distribute the gospel tracts house to house. We are planning to reach all the villages in Newport where we are located. (~150,000 people) We used to use conventional gospel tracts but thanks to the Mission Fund at Chick, we could distribute cartoon gospel tracts, which we feel that would be much friendlier for unbelievers. People need to stay at home mostly during this pandemic situation and we reckon that this is a good chance to reach them by gospel tracts!"
• • • • • •
Thanks to your giving, we have been able to send 30,000 tracts to the U.K. for this outreach plus another 30,000 for a related outreach. As lockdowns there have tightened even further (at the time of this writing) we believe people will be all the more interested in reading the tracts delivered to their homes. Note: it is permissible to put tracts in mail slots in the U.K.

Dominican Republic - Tim Johnson
Under normal circumstances, we can supply Tim Johnson of Teach All Nations Mission in Dominican Republic by shipping tracts to Florida, where they are flown in by small aircraft. But this year was different. Pandemic fear caused the country to block inbound air travel. The solution: print there in the country! You provided for 21,000 copies of Fatal Decision to be printed in this island nation. Johnson writes: "They have been a great blessing. They have been received very well and are extra special because of the message during this China virus."
Missionaries all over the world are finding the same situation: people are very receptive to a story about a deadly disease, and how a man thought he didn't need help, so he refused the medicine. It's so much like people who are sick with sin, and refuse the free gift of salvation paid for by Christ.

Israel
Once again, we are preparing a large shipment of Chick tracts for Israel. And this time, there will be three different titles in the special dual-language editions, Hebrew and English. Reading a cartoon tract in two languages is a great tool to present Jesus to the many Jewish immigrants who are struggling to learn Hebrew —the language of their new home. If you haven't seen one of these, they look like this (Hebrew reads right to left):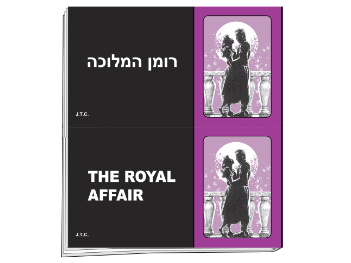 • • • • • •
Kenya - Open Air Campaigners
You continue to provide shipments for their outdoors campaigns, with people coming for tracts and a movie about Jesus.
"We gave out thousands of your tracts in the schools after assembly programs (they were given to the teachers to give out in the classrooms, or students would have been trampled). All the teachers wanted them, and thanked us for coming. There is total religious liberty to preach the gospel in the schools... the principal decided to give us the whole student body...all 2,900 of them... the largest number of students we have ever spoken to at one time.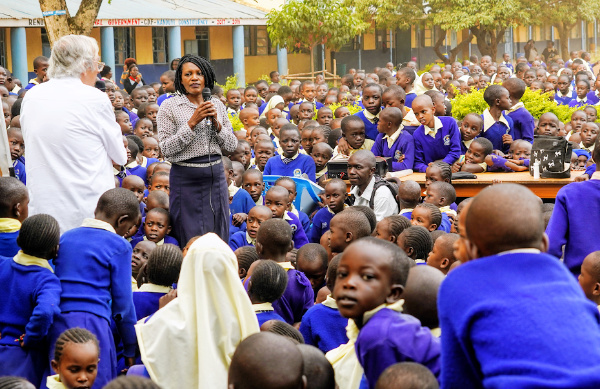 Almost none of the schools have auditoriums, so we meet outside. Assemblies are no problem with high school students, but elementary students can pose a problem if there are too many. They put us on a large raised circle of earth, but as we began, a teacher told the students to come in closer. This immediately started a wave of children pushing forward and up over the circle as they charged us. Alarmed, I silently prayed to God for Him to protect the children from being trampled, and us from being pushed over. After beginning the message again, God answered and graciously came down upon them. They became quiet and still as He spoke to their hearts through His word.
Although we won't know until heaven how many truly trusted Christ as Savior, the sound of many voices praying to receive Him at the end of the message reminded me of His words: "Suffer little children, and forbid them not, to come unto me: for of such is the kingdom of heaven." Both Elaine and I put our trust in Christ when we were young. After thanking God for what He did, I decided that future assemblies will be limited to 1,500."
Their ministry is expanding into the Congo, so your gifts are providing them with a regular flow of French tracts for that area.

Ethiopia
Because you cared, these young children in Ethiopia are discussing Jesus!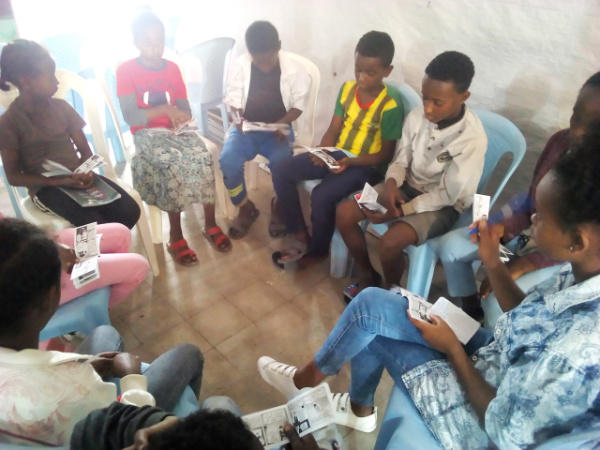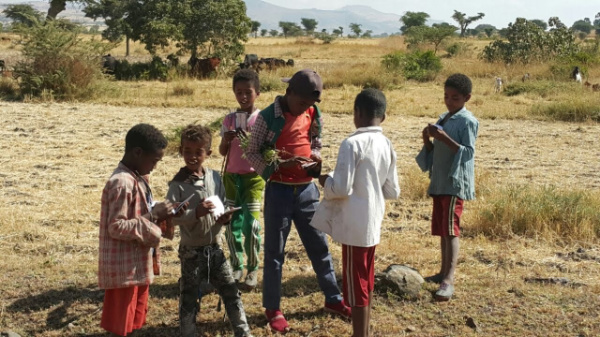 ---
Many Christians want to provide Chick tracts to missionaries. . . We can help!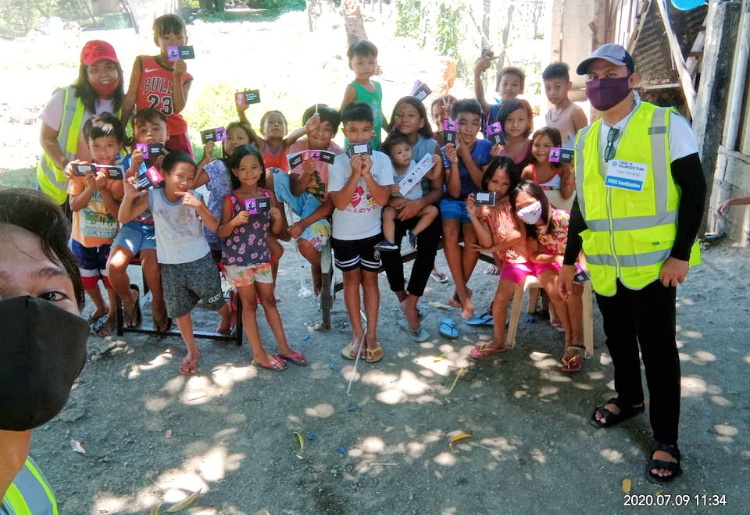 We maintain an account called: The Chick Missions Fund
Although we are not legally structured to give tax-deductible receipts, we definitely know how to get literature into missionaries' hands. If you would like to help extend the hands of a missionary with Chick tracts, please send your donation to:
Chick Missions Fund
Chick Publications
PO Box 3500
Ontario, CA 91761
You can also give on our website.
100% of the funds you send to the Chick Mission Fund are used to ship literature to missionaries.
We receive requests frequently from missionaries who need your help.
Hundreds of thousands of tracts are now being printed for additional projects, with more requests coming in from missionaries every week!
Will you help?