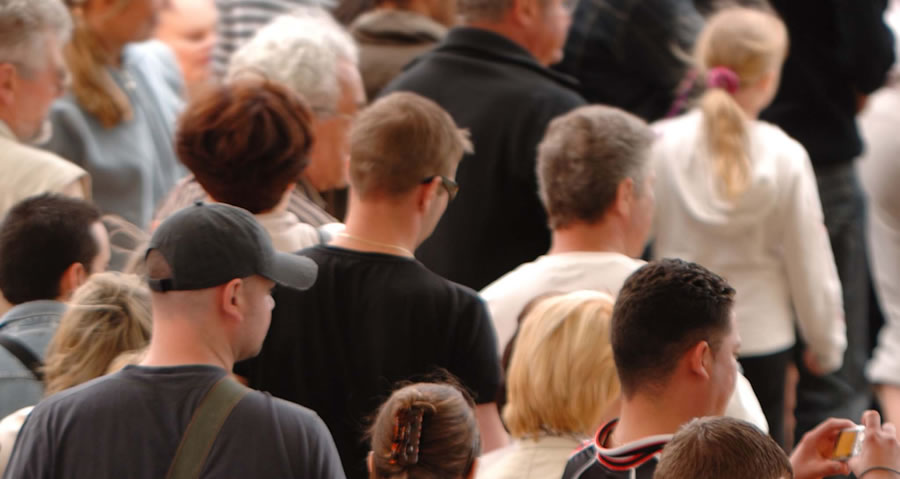 Chances are, one of the
people in this picture is open
to the Gospel.
But which one?
That's the purpose of Gospel tracts. They provide a mass-communication way of finding out who is open to hear about Jesus. The more tracts we give to people we meet, the better our chances of finding that one who is hungry.
Here are some ideas. You'll find something here that fits your lifestyle.
At the library: Place tracts in returning books. Leave a tract on the desktops. Leave a tract in the restroom.
Going bowling: Leave a tract in the rented shoes. Leave a tract at the lane. Place tracts on the video games.
Taxis: Leave some on the seat. Don't forget the driver.
Garage Sales:Set up a "free tract" table.
Gas Station: On gas pumps, in a restroom. Give one to the cashier.
Buses, Trains, Planes: Hand tracts to people and leave them on seats, in magazines and seatback pockets.
Motels/Hotels: Leave tracts in the room, in the Gideon Bible or other literature.
College Campuses: The ideas are endless!
Halloween: Give tracts to trick-or-treaters.
Police Officers: If you get pulled over, cheerfully hand one to the officer.
Your Home: Have tracts available for guests on your coffee table.
Store Counters: Have tracts in a container with a "FREE - Take One" sign.
Bills: Enclose tracts with payments.
Bus Stops: Leave tracts on the benches for people to read as they wait.
Fast Food Drive Thru: Place money inside a tract and give it to the cashier.
Clothing Stores: In dressing rooms, in clothes pockets. Give one to the cashier.
Christmas Caroling: Leave tracts at the homes you visit.
Mailings: Send tracts to elected officials, celebrities, etc. Include tracts with Christmas, Easter and birthday cards.
Libraries: Place tracts in returning books, on desktops and in restrooms.
Schools: In lockers, library books, restrooms.
Church Office: Give tracts to the mailman, phone man, delivery person. etc.
At Church: Give everyone in your Sunday School class a tract and teach the lesson from it. Then send the tracts home for their parents to read. Hand out tracts along with the programs for your church plays.
At the Bank: Place a tract in the drive-through cylinder. Leave a tract in the night drop box.
Hospitals: Leave tracts on the waiting room chairs and tables. Place tracts inside the magazines.
Stores and Markets: Leave Chick tracts on shelves and bulletin boards. Hand one to the cashier. Set up a FREE TRACT rack.
Elevators: Give to passengers, leave one near the control panel.
Church Buses: Give every rider a free tract for coming.
Public Parks: In restrooms, benches.
Vending Machines: In the dispensing tray.
Airports: Restrooms, lockers, phone booths, restaurants, seats.
Hospitals: On waiting room chairs and tables, inside magazines.
Restaurants: In the waiting lounge, restroom, by the phone. Hand one to the waitress and cashier (with a good tip, of course).
Copy Machines: Leave a tract under the flap.
Cars: Under the windshield wiper, rolled up under the door handle, tossed in open windows
Break Rooms at Work: On tables, chairs, vending machines.
Houses: Wrap a rubber band around a tract and place it on doorknobs or fences.
Laundromats: Be creative, but don't put them in the washers or dryers.
Neighborhood Kids: Give tracts when inviting kids to Sunday School.
Escalators: Leave one next to the handrails.
ATM Machines: Leave a tract for the next customer.
Parades: Have a Christian float with people handing out tracts alongside.