Dale Detro is excited about a new tract ministry his church has started. Abundant Life Baptist Church of Cloverdale, Indiana first ordered a Chick tract rack for the church. Members of the church took so many tracts from the rack that they soon had to restock with another order.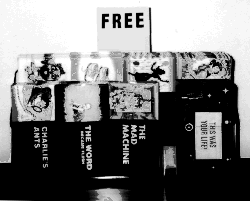 Then Dale and his pastor, Jerry Campbell, came up with the idea of placing tracts in local stores. Dale found some suitable dispensers in the stationery department at WalMart. (The one in the picture is a Rubbermaid Office Solutions product called a Magnetic Organizer with bar code number 22661 15495.) Detro was able to persuade restaurants, convenience store/gas stations, truck stops, a barber shop, and even a bar to display the tracts.
Each week, they visit the stores and refill the dispensers which are almost always empty. They hold 175 tracts of 8 different titles (see picture). So far, they have gotten out over 7,000 tracts in a little over 5 weeks.
At least one person has come to the church and said they were saved reading the tracts and another contacted the church and said they would be visiting. The church is growing and Detro suspects that some may be coming because of the tracts and have not mentioned why.
But he knows that sowing the seed of the gospel will bear fruit. "It's a wonderful way to get the gospel to a lot of people in the community," he says. He has been saved over 50 years and has used tracts in his personal ministry most of that time. He says someone told him that one person gets saved for every 100 tracts handed out so he is looking forward to meeting lots of people in heaven that are there from the tracts he has distributed.
Detro says that the devil is not happy with what they are doing because a Catholic found one of the displays at an ice cream parlor and declared that he would boycott the store if they were not removed. The owner asked Detro to remove them. Detro is not deterred. He just moved the display to another store. "It is amazing how willing the merchants are to accept the display," he said. He is praying that enough of the ice cream store's customers will ask for more of the tracts and that they will want the display back.
He plans to rotate the titles in the dispensers from time to time so people will always be looking for new ones. If this brings people back to the store, this will also help the store owner.
The tract project has caught on with a lot of the church members who are realizing the ministry potential. "It is creating a lot of excitement among the people," Detro says. But he sees the potential beyond his own community. "The idea is so simple, if it will work in Putman county, it will work anywhere," he believes.