Canada
Jason Hines in Quebec says: "THANK YOU SO MUCH FOR THE TRACTS! They arrived and in good condition. Chick tracts are like candy! I love them! The people here in Quebec are so hard to reach. Chick tracts offer the kind of quality that makes it harder for people to turn down. I'm so excited about getting them out. Thank you for thinking of this missionary."

Ethiopia
We have been contacted by a new ministry in Ethiopia. Recommended by another established missionary worker, Compassion International of Ethiopia works with some 500 partner churches in the country. They have been passing out Chick tracts in several locations throughout the country.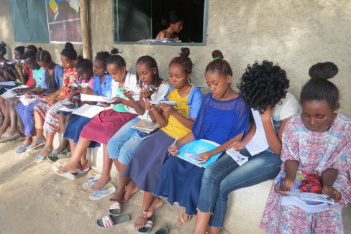 Worker Zwedu Tefera observed that people are more willing to accept the Chick tracts than other tracts available. As you can see from the pictures he supplied, young people sit fascinated, reading the Gospel in their Amharic language. This sets up great preaching opportunities. They saw 215 precious Ethiopians accept Jesus Christ through this work and came back asking for more tracts. Thanks to your giving, we were able to provide them. The job isn't done!

India
We don't know how much time we may have left to evangelize freely in India. Already, the risks for Christians are growing. Missionary Kathy Smith, working with the Independent Church of India (ICII) has used hundreds of thousands of Chick tracts in small villages and leper colonies around the country, and is now receiving another 100,000 tracts for their work.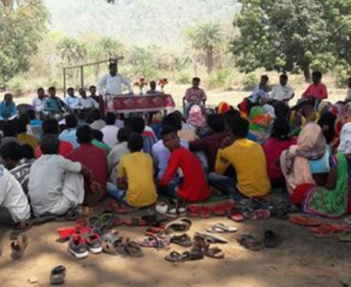 It is moving to read the testimonies of the many people they help, stories of beatings, prostitution, hunger and fear. In some cases, their testimonies and love have led entire villages to the Lord. Now these people have hope and help, and eternal life, too! Thank you for helping to reach these desperate people.
Also, in India, your giving is providing another shipment of tracts for Lordson Roch, Hospital Ministry of India, and others. With over 1 billion people, mass literature distribution is the only thing that gives people a chance to learn about Jesus.
People's Baptist Ministry of India has just completed their big summer outreach. Every year, when their students have summer break, many of them stay on to be part of evangelistic teams throughout the country. More than 750 men and women, including faculty, staff and students of their Bible colleges, spread out across 12 states in India, leading over 8,000 to salvation in Christ! And the 85,000 Chick tracts you provided played a big role in bringing people to meetings like the one in this picture:

Philippines

The outreach organized by Missionary Bruce Hunsaker continues to grow. We are now preparing to ship a quarter million tracts to a number of churches that Hunsaker has arranged for ongoing evangelism. It's amazing the freedom and openness we find in this country. Not knowing how long it may last, we are moving literature in there as rapidly as possible.

Netherlands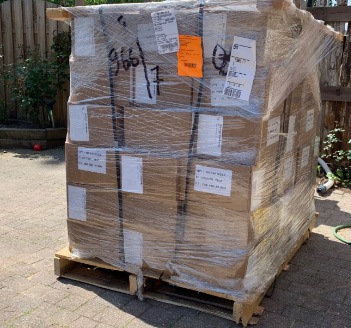 The 70,000 tracts sent to Missionary Stan Kamps, just outside of Amsterdam, have safely arrived.
He has a team ready to start work immediately. Being a seaport town, there is great opportunity here to reach people coming from 170 countries, some of which cannot be reached any other way.

Mexico
Two missionaries, Timmy Oakes and Robert Taylor, both find Chick tracts to be a tremendous help in reaching people all over Mexico, even though it is getting more dangerous there. Taylor writes, "The violence has spiked considerably, and I have been very cautious due to the fact that my mission operates in very remote villages both here in Sonora, and also in the state of Chihuahua. We have not had the freedom of movement as in former years." He says that Chick tracts are the main evangelical tool of his mission other than the Bible. Thank you for keeping him supplied through your gifts.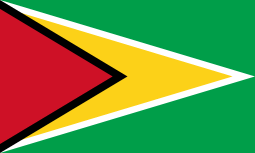 Guyana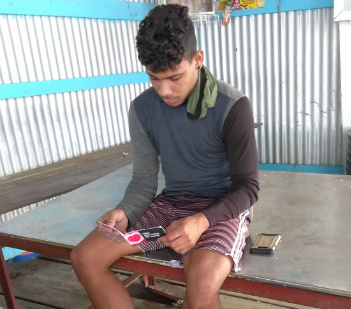 This young man in Guyana is one of many who receive Chick tracts every month through the regular shipments to Missionary noel Shrivnauth in Providence, Guyana.
Other missionaries with tracts on the way include:
Gerald Sutek - Philippines
Noel Shrivnauth - Guyana
Ray Hoover - Ethiopia
Compassion International - Ethiopia
Open Air Campaigners - Congo
Mike Dobbins - Zambia
Andrew Lewis - Israel (printing being prepared for him as this is written).
---
Many Christians want to provide Chick tracts to missionaries
We can help!
We maintain an account called: The Chick Missions Fund
Although we are not legally structured to give tax-deductible receipts, we definitely know how to get literature into missionaries' hands. If you would like to help extend the hands of a missionary with Chick tracts please send your donation to:
Chick Missions Fund
Chick Publications
PO Box 3500
Ontario, CA 91761
You can also give on our website.
100% of the funds you send to the Chick Mission Fund are used to ship literature to missionaries.
We receive requests frequently from missionaries who need your help.
Hundred of thousands of tracts are now being printed for additional projects, with more requests coming in from missionaries every week!
Will you help?