| | |
| --- | --- |
| | Chick tracts continue to extend the reach of missionaries all over the world. Here are a few new reports: |

Kathy Smith — India
Working with the Independent Church in India (ICII), Smith focuses on equipping native pastors and missionaries using training seminars and a Bible school. She writes: "We have so many requests for these tracts that it is difficult to equip them with all the materials they need. They will reach unreached tribal areas and very remote villages where the Gospel has never been preached before!"
Local pastors report that the tracts are most useful in starting conversations with the tribal people: "We are seeing a lot of people responding by using the Chick tracts in the tribal areas. These are the pagan tribes that actually do infant sacrifices to their Hindu gods. We have seen many of these people stop doing the baby sacrifice since they have received the Lord. The Chick tracts make it so much easier to reach these kinds of people."
One pastor reported 20 new young people saved, baptized and attending church regularly. "Thanks so much again for these awesome tracts! God is using them mightily here in India!" Writes Kathy.
---

Ray Hoover - Ethiopia
"We have just returned from a five day trek way up in the mountains of Hosanna. We have found a village of Ethiopian Jews and we hopefully will start a church there. We took 1000 Chick booklets and passed every one of them out, in fact we could have taken 2000 and they would have all been taken. Praise the Lord we saw over 30 precious souls come to Christ."
---

Bill Eubanks — South Africa
"We have had tremendous feedback from the Muslim tract Your Best Life. It is mild enough that they would read it with interest and I know the truth is so clearly presented some might be won for Christ. (Bill thinks it is a great one!) I got a call from a Christian today saying he was so excited about Your Best Life because he was always trying to witness to his Muslim friends."
---

David Wilson — Kenya
"I just got back from Kenya. Our biggest problem was to stop the youth trampling each other as we offered your This Was Your Life tract after the preaching. In the schools, we had to give the exact number to the teachers to give out later in their classrooms. In the open air, we had to silently move through the crowd as they watched the film and secretly give out the tracts. Very different from America! Many thanks for your investment in the kingdom of God."
---
Many Christians want to provide Chick tracts to missionaries
We can help!
We maintain an account called:
The Chick Missions Fund
Although we are not legally structured to give tax-deductible receipts, we definitely know how to get literature into missionaries` hands. If you would like to help extend the hands of a missionary with Chick tracts please send your donation to:
Chick Missions Fund
Chick Publications
PO Box 3500
Ontario, CA 91761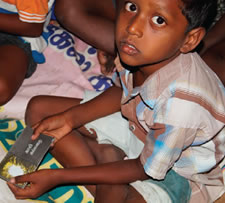 The Mission Fund is in the midst of printing and delivering over 400,000 tracts to 5 ministries in India, several of whom work especially with children.
100% of the funds you send to the Chick Mission Fund are used to ship literature to missionaries.
In the past few months, shipments have been provided for:
Brazil Bulgaria Canada China Costa Rica Ethiopia

Ethiopia Fiji France Germany Greece

Guatemala India Israel Kenya Mexico

Netherlands Papua New Guinea Philippines Poland

Taiwan Thailand Zambia
Will you help?