More and more missionaries are finding Chick gospel tracts to be essential tools for saturating communities with the gospel, often leading to starting of new churches. Here are a few reports:
Missionary Hunsacker — Philippines
| | |
| --- | --- |
| | Bro Jack's Tracts are such an integral part of our ministry, it would be difficult to get along without them. The best thing besides putting the cross in people's faces, they have directly stimulated the small churches to go out and get their own sinners. I appreciate your willingness to help. I appreciate all of you adding to the Lord`s/our ministry. |
John Johnston — Haiti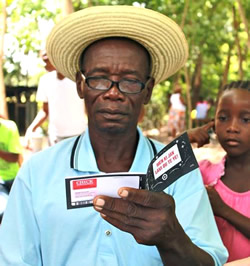 I just thought I`d pass along a pic that might bless you to see. I just got back from a week`s missions trip to Haiti. We got a supply of This Was Your Life in Créole, which we handed out in our various ministries. I had over 200 pastors show up for a conference where I taught. Then we had free medical clinics. I ran a table that gave out reading glasses. Once we determined the best strength for each person, what better test than to see if they could read the Chick tract? Nationals from our Bible School were there to pray with each person and they were able to lead quite a number to the Lord. This guy`s eyes were so bad before getting our glasses that he could not see to read. Our prayer for each one was that they also get spiritual eyes to see the Truth!
David Robinson — Malawi
"Thank you and want to let you all know that the day we were pulling out of town around 22,000 of the tracts came in. Now this is the second week and we have distributed 14,000 so far. These tracts are literally a game changer for us. It is true that these people here are poor and will receive any quality of tract. However, people see the quality and the message inside and the verses and boy are they thankful to get them. The phone number on the back is literally ringing off the hook. Many of them just to say thank you, several have asked how to be saved, and many have said that they have read the message and have [been saved]. May the Lord bless you for helping us with the tracts."
James Wiseman — Guatemala
"We recently returned to Panzos to assist in a 3-day market evangelism outreach with Pastor Nery, to be held in three separate small towns. In spite of a temperature of 104°, we distributed 5000 This Was Your Life gospel tracts from Chick Publications in just five hours in each town. While there, two boys came to tell me that their family had heard us preaching at the open-air event at Christmas time but did not respond to the altar call. However, the Holy Spirit continued to speak to their hearts and shortly afterward they found the Pastor and gave their hearts to Christ and are now serving faithfully. In fact, their mother helped with the market evangelism in their town!!"
---
Many Christians want to provide Chick tracts to missionaries. We can help!
We maintain an account called: "The Chick Mission Fund."
Although we are not legally structured to give tax-deductible receipts, we definitely know how to get literature into missionaries' hands. If you would like to help extend the hands of a missionary with Chick tracts please send your donation to: Chick Missions Fund, c/o Chick Publications, PO Box 3500, Ontario, CA 91761.


100% of the fund you send to the Chick Mission Fund are used to ship literature to missionaries.
We receive requests frequently from missionaries who need your help. Just during recent months, shipments have been provided for:
| | | | | |
| --- | --- | --- | --- | --- |
| Argentina | France | Israel | Peru | Bangladesh |
| Germany | Kenya | Philippines | Brazil | Greece |
| Malawi | Poland | Cambodia | Guatemala | Mali |
| Romania | Chile | Guyana | Mexico | South Africa |
| Colombia | Honduras | Netherlands | Thailand | Costa Rica |
| Cuba | Paraguay | Hong Kong | Zambia | Ukraine |
Will you help?