Reports are coming in from many foreign fields about how gospel tracts are used to saturate communities resulting in new congregations, strengthened churches and fired up people. While it is getting more difficult to get tracts into some countries of the world, the Philippines remains wide open.

As of this writing, a 300,000-tract shipment to the Philippines is being boxed. The shipment will be divided up among dozens of local churches to saturate their communities with the Gospel.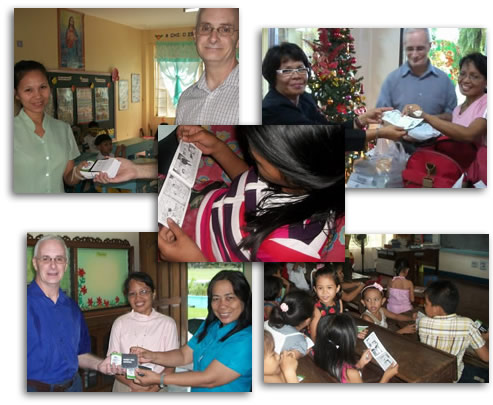 Missionaries Mike and Luisa Carey report great success in their outreach to the local public schools. In mid October, they put tracts into the hands of thousands of students at five local elementary schools. As a result, many more of the students are attending Saturday Bible studies and youth fellowships. Church members stepped up and helped in organizing the flow of the tracts to the schools. Tracts were also supplied to other, smaller schools, outside the local area.
"God has answered our (you and us) prayers for helpers in the ministry. They signify willingness to help us. In fact, this November, a group of young people are assigned to help us distribute tracts to 5 high schools in time for the youth camp this coming April 2015," writes Carey.
The Careys are beginning to anchor other tract ministries in neighboring towns and schools. Other missionaries and pastors are becoming interested in duplicating the Carey`s methods of tract saturation outreaches to their communities and local schools.
---
Testimony from Missionary J.T. Strong in Kenya: "We received your generous shipment of "This Was Your Life" here in Mumias, Kenya. What a tremendous blessing. We pass these out when doing evangelism and even in the small African town where we live. Our children at our Children`s Home love the tracts also! Last week we saw 11 people come to salvation as we evangelized in a local village and we gave all of them one of your tracts! I want to say a big thanks to Chick Publications for supporting Strong Point Ministries as we labor for souls here in Kenya."
---

Missionary Mike Fleuch writes from South Africa that he is training other workers in street evangelism using gospel tracts as part of the outreach. God has blessed his efforts with nearly 200 attending Sunday morning and evening services. He effectively combines tracts, street preaching and discipleship videos in growing excited Christians eager to evangelize and grow new congregations. He is starting a third year of a Bible School, training future leaders to fulfill a vision to "see Bible-believing churches planted up and down this country." He, like other missionaries, has discovered that saturating a community with gospel tracts combined with street evangelism will get the attention of enough people, "who have ears to hear," to start a young congregation. Tracts become an important part of the mix by both providing basic instruction in the gospel and making it easy for new believers to witness.

---

One country in turmoil is China. One missionary has succeeded in developing a network of contacts who are willing to risk their lives to get bibles and tracts to the university students in Beijing. He writes that there are now more Christians in China than communist party members. This has the government nervous and they have declared there will be more freedom of worship, but it seems only a trick to get the underground churches to come out in the open more. When they do, but refuse to register with the government, they are shut down and leaders imprisoned. Meanwhile, God is allowing this missionary to get dozens of boxes of tracts and precious bibles into the cities where persecution is greatest. Much of the outlying areas are heavily Christian with less government pressure. Wherever he can get the tracts in, they are effective in reaching the lost and edifying the saints. If you are able to help supply tracts to missionaries, see ad below.
---
Many Christians want to provide Chick tracts to missionares
We can help!
The Chick Missions Fund is used to provide free tracts to missionaries all over the world. Although we are not legally structured to give tax-deductible receipts, we definitely know how to get literature into missionaries' hands. They often write to us asking if anyone can help them get Chick tracts.
If you would like to help extend the hands of a missionary, please call us or send your donation to:
Chick Missions Fund
Chick Publications
PO Box 3500
Ontario, CA 91761
100% of the funds you send to the Chick Mission Fund are used to ship literature to missionaries.
In the past few months, shipments have been provided for:
China Zambia Fiji Bulgaria Philippines Israel

Hong Kong Guatemala Ukraine Brazil India Poland

Dominican Republic Honduras Thailand Zimbabwe

Czech Republic Puerto Rico Italy Costa Rica Taiwan

Pakistan Germany Colombia South Africa Mexico
Will you help?

"Thank you so much for the tracts! They arrived and in good condition. Chick tracts are like candy! I love them! The people here in Quebec are so hard to reach. Chick tracts offer the kind of quality that makes it harder for people to turn down. I'm so excited about getting them out. Thank you for thinking of this missionary." J.H., Canada
"Thanks to a large donation of Chick tracts that has been received for the purpose of the evangelizing here in Venezuela. The Lord has opened five areas for us to have an outreach for the Gospel. In these areas we are at different levels of involvement, response and results. The pastor has done a wonderful job in the starting of a mission in Puerto Piritu, Venezuela. Now there are regular services with a young preacher as the leader of the group. There is much more to do there." J.A., Venezuela