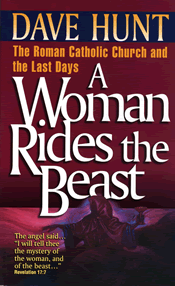 Excerpted from A Woman Rides the Beast
© 1994 by Dave Hunt
Reproduced by permission
"Virtually all attention these days is focused on the coming Antichrist —but he is only half the story. Many are amazed to discover in Revelation 17 that there is also another mysterious character at the heart of prophecy —a woman who rides the beast."
—Dave Hunt
The Bible says the whore of Revelation 17 is a city and gives remarkable clues to her identity. The following is one of a series of excerpts from A Woman Rides The Beast, by Dave Hunt. Here Hunt digs behind these clues which point to only one possibility: Rome and the Vatican. In this book, Hunt's thorough research is a must for anyone who would witness effectively to Roman Catholics.
---
In Bed With The Rulers
Not only does Rome's pope call himself the vicar of Christ, but the Church he heads claims to be the one true Church and the bride of Christ. Christ's bride, whose hope is to join her Bridegroom in heaven, is to have no earthly ambitions. Yet the Vatican is obsessed with earthly enterprise, as history proves; and in furtherance of these goals it has been, exactly as John foresaw in his vision, engaged in adulterous relationships with the kings of the earth. That fact is acknowledged even by Catholic historians.
Christ said to His disciples, "If ye were of the world, the world would love his own; but because ye are not of the world, but I have chosen you out of the world, therefore the world hateth you" (John 15:19). The Catholic Church, however, is very much of this world. Her popes have built an unrivaled worldwide empire of property, wealth, and influence. Nor is empire-building an abandoned feature of the past. We have already seen that Vatican II clearly states that the Roman Catholic Church today still ceaselessly seeks to bring under its control all mankind and all their goods.
Popes have long claimed dominion over the world and its peoples. Pope Gregory XI's papal bull of 1372 (In Coena Domini) claimed papal dominion over the entire Christian world, secular and religious, and excommunicated all who failed to obey the popes and to pay them taxes. In Coena was confirmed by subsequent popes and in 1568 Pope Pius V swore that it was to remain an eternal law.
Pope Alexander VI (1492-1503) claimed that all undiscovered lands belonged to the Roman Pontiff, for him to dispose of as he pleased in the name of Christ as His vicar. King John II of Portugal was convinced that in his Bull Romanus Pontifex the pope had granted all that Columbus discovered exclusively to him and his country. Ferdinand and Isabel of Spain, however, thought the pope had given the same lands to them. In May 1493 the Spanish-born Alexander VI issued three bulls to settle the dispute.
In the name of Christ, who had no place on this earth that He called his own, this incredibly evil Borgia pope, claiming to own the world, drew a north-south line down the global map of that day, giving everything on the east to Portugal and on the west to Spain. Thus by papal grant, "out of the plenitude of apostolic power," Africa went to Portugal and the Americas to Spain. When Portugal "succeeded in reaching India and Malaya, they secured the confirmation of these discoveries from the Papacy..." There was a condition, of course: "to the intent to bring the inhabitants ... to profess the Catholic Faith."4 It was largely Central and South America which, as a consequence of this unholy alliance between church and state, had Roman Catholicism forced upon them by the sword and remain Catholic to this day. North America (with the exception of Quebec and Louisiana) was spared the dominance of Roman Catholicism because it was settled largely by Protestants.
Nor have the descendants of Aztecs, Incas, and Mayas forgotten that Roman Catholic priests, backed by the secular sword, gave their ancestors the choice of conversion (which often meant slavery) or death. They made such an outcry when John Paul II, in a recent visit to Latin America, proposed elevating Junipero Serra (a major eighteenth-century enforcer of Catholicism among the Indians) to sainthood that the pope was forced to hold the ceremony in secret.
Christ said, "My kingdom is not of this world; otherwise my servants would fight." The popes, however, have fought with armies and navies in the name of Christ to build a huge kingdom which is very much of this world. And to amass their earthly empire they have repeatedly engaged in spiritual fornication with emperors, kings, and princes. Claiming to be the bride of Christ, the Roman Catholic Church has been in bed with godless rulers down through history, and these adulterous relationships continue to this day. This spiritual fornication will be documented in detail later.