The amount of Gospel "seed" going out is accelerating. More and more missionaries are requesting Chick tracts for their ministries. Missionaries in many fields are discovering the effectiveness of gospel tract saturation of a community to start new churches and strengthen existing ministries.
Here are some Missions Fund projects underway right now:
Philippines
70,000 Filipino tracts going to the Philippines to be distributed among students. They are very open, and Mike and Luisa Carey are taking advantage of the opportunity.
100,000 Filipino "Tiny Shoes" are just now arriving in the Philippines, en route to churches across the country associated with Dr. Donnie Whitlock of Mass Media Outreach Ministries. These workers have used these tracts before and are excited to have more!
Mexico
100,000 Spanish tracts were used in outreaches in Chihuahua and Juarez, Mexico. The workers reported that the outreaches went very well, and the teams are starting to go out into other cities of Mexico. The work is spreading.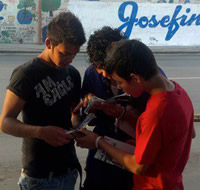 This picture shows how popular Chick tracts are when "seeded" into the streets of Juarez, Mexico.
China
100,000 Chinese tracts have been requested by workers in China for distribution in a major city. We don`t provide names and locations for obvious reasons. Government persecution of Christians is actually increasing. But the Christians simply don`t quit. Evangelism is producing so much fruit there that the government is starting to fear the influence of Christians.
Ukraine
100,000 tracts are being printed in Ukraine. No one knows how events will play out in that region, so we felt that we needed to hurry and get as much Gospel as possible into the area. Shipping tracts into the country is both difficult and very expensive, so we are printing there. A number of missionaries have gotten together and created a "wish list" of the Chick tracts they want for their ministries.
At the time of this writing, we have made commitments to 26 different missions projects for which missionaries have requested Chick tracts. A total of 712,000 tracts are being produced for delivery.
Giving to the Chick Missions Fund has been increasing, and we are in a hurry to get the gospel into the foreign fields as quickly as possible. We have a real sense here that the time is growing short.
If you would like to help extend the hands of a missionary, please send your donation to: Chick Missions Fund, Chick Publications, PO Box 3500, Ontario, CA 91761.
Unfortunately, we are not set up to issue tax deductible receipts but we do know how to get tracts to missionaries.