Tom and Krinny Gaudet have a wide-ranging ministry from Bulgaria to Thailand. They funnel hundreds of thousands of Chick tracts through the local churches and outreaches. The Chick Missions Fund is already preparing 250,000 tracts for an expected 700,000 European youth who will be attending events in Varna, Bulgaria next summer. He shared the following details:
"We have partnered with several brethren for an outreach during the European Youth Capital for 2017 which will be in Varna, Bulgaria.
"In 2009 the EU began a program for youth. Each year a different city is chosen for the center of many events designed for youth. A team of missionaries will be doing outreaches during the year, centering on the summer of 2017. There may be as many as 700,000 youth and sponsors from all over the EU there for these events.
"We have partnered with this outreach in two ways. One was to help them get tracts for the outreach. 250,000 are now printed with a customized cover on the back of the tract. These Chick tracts are in three languages.
"Secondly, we are committed to the outreach by setting up the response and follow up system using websites on our network. Each tract will have a website address on it directed to the sites for following up on those who would respond. This outreach in Bulgaria is a perfect fit for the kind of experience we have and that which we are putting into place."
---

Jerry Alford —Venezuela
"Praise the Lord, the shipment of boxes have arrived here in Venezuela. Let me say a great THANK YOU to all the Christians and churches who have made this project possible. Many Bibles, thousands of tracts and even food has arrived to a needed place. May God bless you all. Thank you again."
---

Emmanuel Ministries —India
Our contact there wrote: "The tracts were given to the ministry workers from Bhutan, Nepal and India with a responsibility of handing it to the people of their respective countries. The youths who participated in the Youth Seminar had their best time reading the tracts. The powerful stories touched their hearts and inspired them to take it for their unbeliever friends and for outreach ministry.
"We, now, have been receiving the continuous reports on the outcome of the tracts from all the workers and youths in these countries. The reports say that the tracts had reached the places where people can`t go person-to-person. The word of God had reached such places where carrying a Bible is an offense. But, since the tracts were small it is now with everyone in their pockets."
---

Creighton Stephens —Philippines
"It was a Chick tract that helped win me to the Lord back in 1992 when a pastor used it to witness to me. I still have the tract and it`s one of my most valuable possessions: 'This Was Your Life'."
He is now a missionary and the Mission Fund is supplying him with tracts.
---

Donnie & Wanda Whitlock, Mass Media Outreach Ministries (MMOM) —Philippines
"A special thanks to all who have been a part in giving funds so MMOM Bible Teams would have the SEED to share with literally millions. It has taken all of us — churches, individuals and others, who have faithfully given to MMOM and the Chick mission-fund account.
"Chick Publications has allowed Mass Media Outreach Ministries the opportunity of joining together in the distribution of millions of tracts in 11 different languages throughout Asia. The Chick tracts have gone into many countries and even areas that are closed to the Gospel. Just through our ministry, we have seen God use his materials to bring some of the hardest hearted people to believing faith in the Lord Jesus Christ.
"Tract distribution has played a very important part in every new church planted in the Philippines and throughout Asia."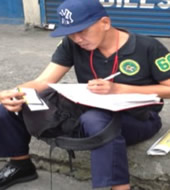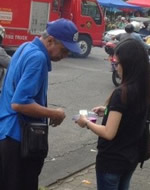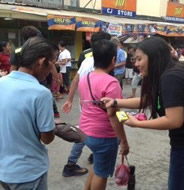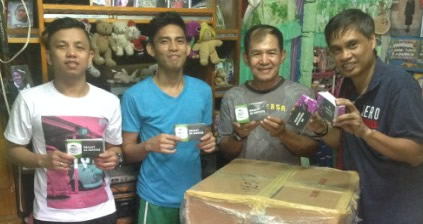 ---
Many Christians want to provide Chick tracts to missionaries
We can help!
We maintain an account called:
The Chick Missions Fund
Although we are not legally structured to give tax-deductible receipts, we definitely know how to get literature into missionaries` hands. If you would like to help extend the hands of a missionary with Chick tracts please send your donation to:
Chick Missions Fund
Chick Publications
PO Box 3500
Ontario, CA 91761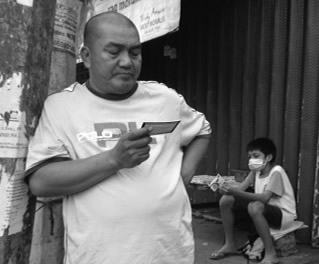 Pastor Edgar, whose Filipino church works with Missionary Donnie Whitlock, reports, "During the All Saints Day celebration we go out passing out gospel Chick Tracts to the people on November 1, and sharing God's Word." You provided the tracts that got people's attention for Jesus.
100% of the funds you send to the Chick Mission Fund are used to ship literature to missionaries.

We receive requests frequently from missionaries who need your help. Just during recent months, shipments have been provided for:
Ethiopia Haiti Philippines Malawi Greece

Guatemala Germany Netherlands Switzerland

Guyana Israel Zambia Kenya India

Honduras Mexico Papua New Guinea

Russia Canada American Samoa
Will you help?