Guatemala
Missionary Nancy Henson describes using Chick tracts here: "Its amazing how well these tracts are accepted. The youth sit down on the walkway and begin reading them right there. Then, the friends come and 3 to 4 friends can be seen sitting there all reading the same tract. Sometimes, I have to limit them to one tract per family and I tell them to share the different titles.
When you said Chick tracts get read, that is so true. They get read and passed around. One school used them for reading material that day, with a test on the material the next day. I can't tell you how very much they are appreciated, accepted and passed around. They are like gold seed in the missionary's hand. Thank you for your generosity."

Guyana
Many thousands of people are fleeing the violence and hunger of Venezuela, and coming into neighboring Guyana. Another 60,000 Spanish tracts to present Jesus to these people have gone to Pastor Zakir Ibrahim along the Demerara River, just upstream of Georgetown. It is very difficult to get tracts into Venezuela, so reaching folks when they flee to Guyana is a perfect opportunity!

India
Another shipment of tracts has reached Lordson Roch in Goa, India. He shares about the result: "A lady named Jyothi, while searching for a church, got our Chick tracts with our church address. Jyothi and her husband with their two kids came to church, heard the gospel and trusted Christ and have been faithfully attending our church."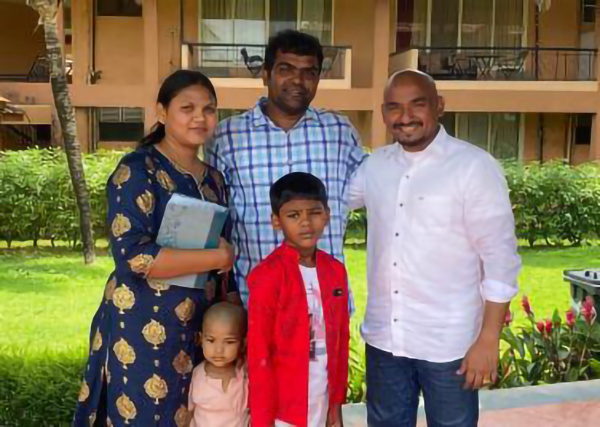 PHOTO: Lordson Roch with Jyothi and her family who all accepted Christ!
• • • • • •
VIDEO: See what God is doing in India with Chick tracts.
• • • • • •

Israel
The shipment of Chick tracts for Israel finally cleared customs. It was a long and difficult struggle, but they are now going into the hands of the people there. It is legal there to put tracts into mailboxes, so many of the tracts are being distributed that way. Precious Jewish people will read the gospel without feeling pressured by Jewish leaders (like Jesus was).
Over 65,000 Chick tracts were delivered thanks to you. Because of the relentless persecution against him and his family, we will not give the name of this missionary. Since importing tracts into Israel is becoming so difficult, we have begun to print right there, with 40,000 Hebrew-English Royal Affair coming off the press first!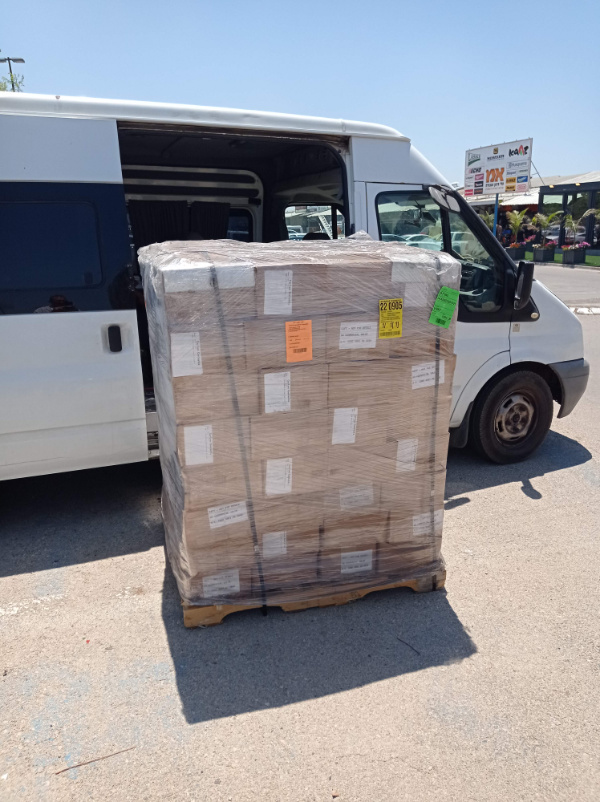 PHOTO: Over 65,000 tracts were just delivered in Israel.
• • • • • •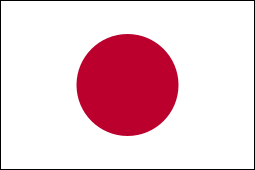 Japan
Third-generation Missionary Justin Miller in Japan is using Chick tracts you provided for church plants in several communities. He mentioned a special need that is on his heart. He wrote: "There are over 1 million "hikikomori" in Japan. These are people that have given up on life and never leave their homes. We are hoping to reach these precious people at their homes."
Thanks to your help, we were able to immediately supply him with the tracts he needs to reach these people.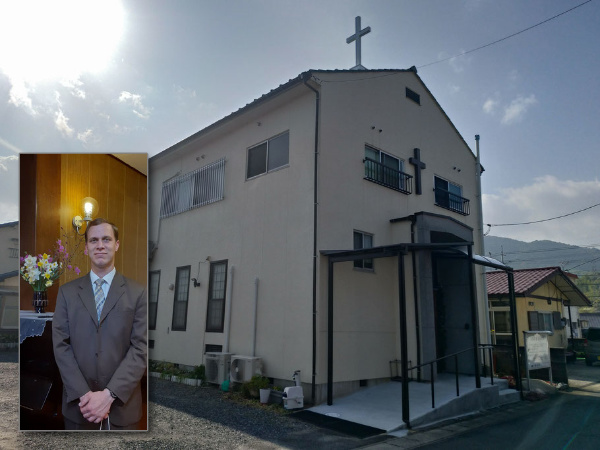 PHOTO: Missionary Justin Miller and his church in Japan.
• • • • • •

Papua New Guinea
Many of you gave to help provide one million Chick tracts in English and Pidgin for Papua New Guinea. Missionary Chad Wells has been busy with them. In addition to providing them to pastors of the hundreds of little churches in the surrounding villages, he has been doing lots of outreach. Here is a message we just received from him:
"Things are going fantastic with the tracts! Lots have been distributed in nearer areas (within a few hours drive). They have also been shipped/flown to other city centers around the country including Wewak, Wau, Kandrian, Lae, Baimuru, and Goroka, to be distributed by our sister churches.
I will send you the pictures that we have gotten from the various outreaches. In Mt. Hagen we did a blitz with our youth and passed out 18,000 tracts. Up the highway, in probably 15-20 markets along the way, another 4,000 were distributed. We went to a huge campaign rally (it is our election time) in Ialibu and passed out 10,000. We also took our Bible College students to Mt. Hagen and passed out another 10,000 (a couple of months later)."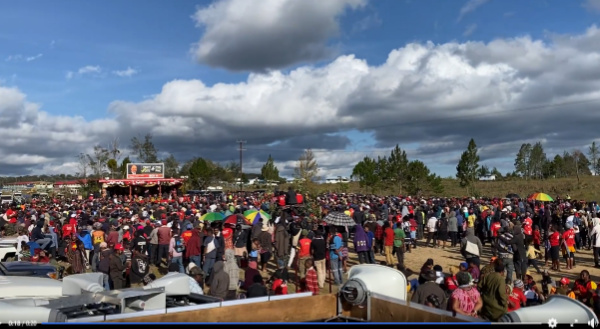 PHOTO: Political rally where many Chick tracts were distributed in PNG.
• • • • • •
In the videos below, missionary Chad Wells gives tracts to several Papua New Guineans who wanted money to let Chad and his vehicle pass a tree that had fallen in the road.
Please use the yellow button below to be redirected to Facebook where you can watch the videos.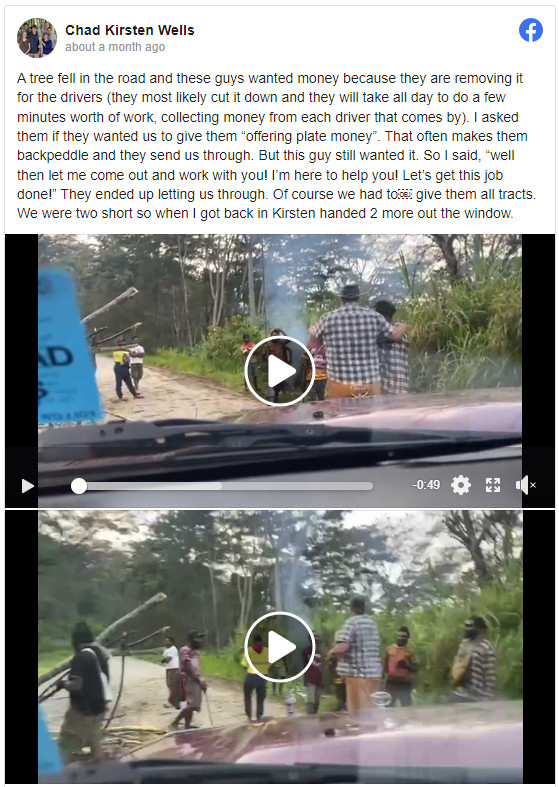 Peru
The 40,000 Chick tracts you provided for ministries in Peru have finally been delivered. Ports worldwide are so congested that everything is taking longer than normal to arrive... but they do finally get there!
These tracts were requested by Missionary Tom Sloan, who runs radio ministries in both Mexico and Peru.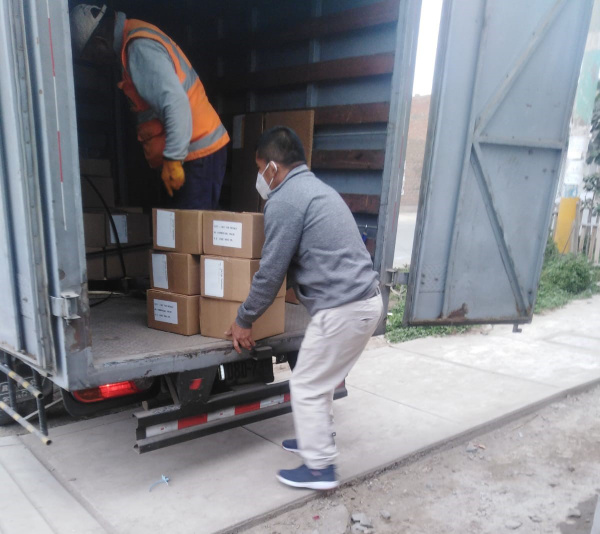 PHOTO: Tracts successfully delivered in Peru.
• • • • • •

Philippines
The door continues to be open to the gospel in this nation of thousands of islands. A non-profit group in the Philippines, which does medical, dental and evangelism outreaches, has offered to help us import a full container of Chick tracts.
Missionaries and pastors all over the islands are waiting for these tracts to power their street outreaches. With your help, we will fill an ocean container with more than one million Chick tracts, in Filipino and English, the two official languages of the Philippines plus in Cebuano, a major language in the Visayas (central Philippines).
At the time of this writing, we already have hundreds of thousands of these tracts printed and ready to go. We have learned that open doors do not stay that way forever, so we are pushing the gospel into the Philippines as fast as we can! Thank you for your help.
Missionary Joshua Yun, using tracts you provide to him monthly, writes: "The Filipinos are receiving the tracts gladly as always. By the grace of God, we now have two more missions in Orani and Nueva Vizcaya. Including the church in Taguig City and Limay mission, we now have four preachers (Bible Institute students and graduates) regularly preaching in the local assembly and evangelizing their towns and provinces."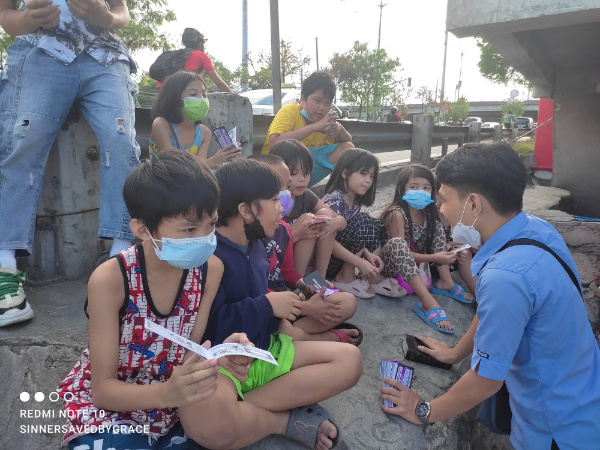 PHOTO: One of Yun's workers gives Chick tracts to children.
• • • • • •

South Korea
Missionary Joshua Yun is shuttling back and forth between his church plants in the Philippines and the new one in South Korea. Here, he shares what is happening there: "Members are very active in soul-winning and distributing gospel tracts. While preaching and distributing tracts in Seoul Station, one of the major places in Korea, one mission organization approached me and told me they would love to learn how to preach the gospel and win souls. About 20 people came to our church on Saturday to learn and preach the gospel in Seoul Station.
"Another piece of good news is that a missionary to addicts (alcoholics, drug addicts, gambling addicts) and prisoners approached me because one of his members saw 'The Long Trip' tract and she thought it was very plainly explaining the gospel. To make the long story short, after this, our church is now able to reach out to addicts and prisoners together with Chick Tracts."
Chick tracts are opening doors in both areas! Thank you for making it possible.
---
COMING UP
We are preparing a shipment of 100,000 Ukrainian tracts that will be added to a container a church is sending to Ukraine.
A full container (1 million Chick tracts) is being sent to Manila, Philippines. Many missionaries and pastors are waiting!
More tracts for Missionary Don Cross in Colombia.
50,000 tracts to Missionary Lacy Wheeler in Mexico.
More missionaries keep asking for tracts!
• • • • • •
Many Christians want to provide Chick tracts to missionaries. . . We can help!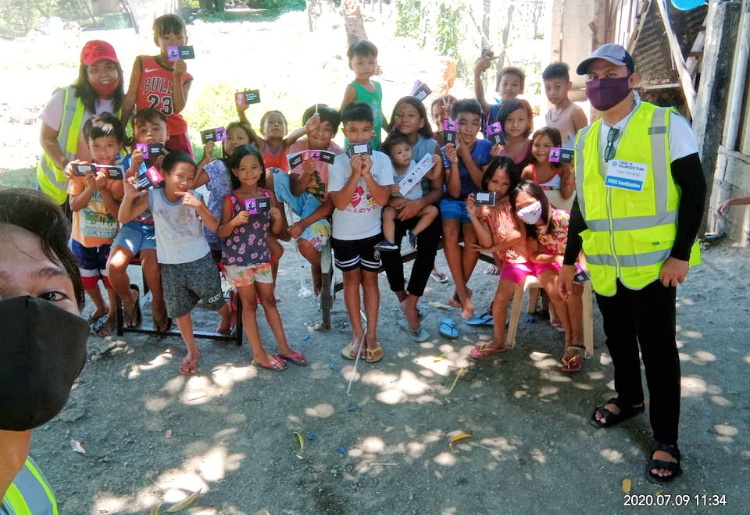 We maintain an account called: The Chick Missions Fund
Although we are not legally structured to give tax-deductible receipts, we definitely know how to get literature into missionaries' hands. If you would like to help extend the hands of a missionary with Chick tracts, please send your donation to:
Chick Missions Fund
Chick Publications
PO Box 3500
Ontario, CA 91761
100% of the funds you send to the Chick Mission Fund are used to ship literature to missionaries.
We receive requests frequently from missionaries who need your help.