Dear ones in Christ,
Today it seems we all know at least one person who is sick because of cancer. It is an ordeal not only for the patient, but also for loving friends and family.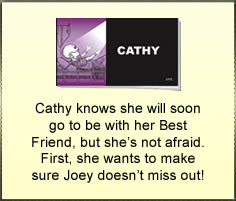 But Cathy is a young patient who has her priorities straight. She is not worried for herself. She knows her loving Saviour will take care of her, no matter what happens. Her priorities are much higher. She is concerned for the souls of her friends, like we should be.
Many people who have read this tract have burst out in tears. It is sensitive, it is loving, but more importantly, it presents the gospel in a simple way that a child can understand. You can read this to your children. What better way to introduce others to Christ, than through the faith of a child!
I believe with all my heart that this will be a classic. We pray it will be used by God to win many souls to Him.
God bless you every time you hand out tracts or read them to another person.
Yours for the lost,
Jack Chick