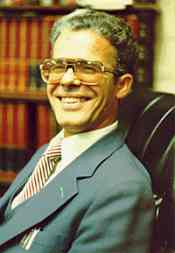 Dear ones in Christ,
A very dear friend passed away on June 20th, 1997. Dr. Alberto Rivera went home to be with the Lord.
Eighteen years ago, by the providence of God, the Lord put a man with a vital message together with a man who had a vehicle to spread it. I thank God for allowing me to work with Alberto in the creation of the six Alberto Series comics. God's two-fold purpose was to:
Expose Roman Catholicism to the world and block her agenda.
Bring the gospel to a billion Roman Catholics trapped in a religious system with no salvation.
Thank God, Bible-believing Christians world-wide began using these comics to share the gospel with Roman Catholics. Multitudes have been saved...and the Alberto comics are still touching souls around the globe.
No one will ever know the war that Alberto and I went through together as we worked to expose Rome back in a day when very few were saying anything about this pagan religious system.
Yes, Alberto has been often attacked and criticized, but one fact is undeniable. For eighteen years since the first Alberto comic was published, this man lived by faith, and traveled the world, faithfully preaching the gospel and winning precious lost Catholics and others to the Lord wherever he went.
And though I am saddened at his passing, I am excited that, through his testimony in these comics, his message is preached today, and will continue to win souls until Jesus returns.
Your brother in Christ,
Jack Chick